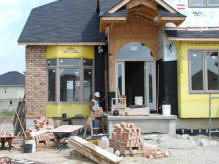 Customer Comments and Feedback
Below is a small selection of the testimonials provided by some of my clients.
I have not asked for these. My clients have been so pleased with my work that they took the time and effort to put their thanks in writing.
I would like to thank all of them for their kind words.
- John Beaumont
''The builder has finished the wall, he will call back today to tidy up and take the rest of his tools....its beautiful he's made a lovely job of it ...quite a work of art.'' - Mrs S Ryan
" John...many thanks for helping me out at the last minute. The re-plastering and making good was first class..." - G.W. (Checked Electrics)